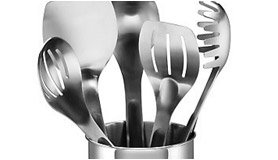 STAINLESS STEEL UTENSILS
Dishwasher Safe
Grip-anywhere handle
Heat resistant to 500°F
Use:
Wash in warm, soapy water before first use.
Do not use with nonstick cookware unless cookware is specified metal utensil safe.
Safe for use with stainless steel, hard anodized, and enamel cast iron cookware.
Review the use and care of your specific cookware product for utensil compatibility.
Heat resistant to 500°F
Cleaning & Care
Stainless steel utensils are dishwasher safe.