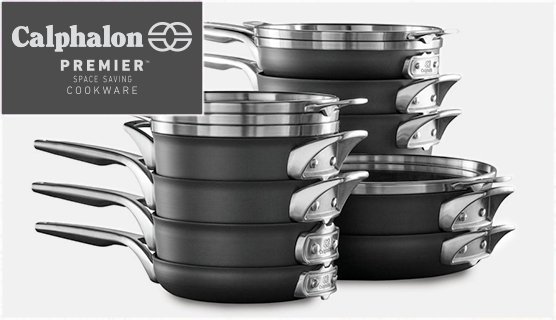 Calphalon Premier Space-Saving Hard-Anodized Nonstick Cookware
Stacks smaller to save 30% more space*
Metal utensil safe
Dishwasher safe
Oven safe up to 450°F
Before You Cook
Before using cookware for the first time, wash in warm, sudsy water, rinse, and dry thoroughly.
Stovetop Use
Compatible with electric, halogen, gas, and glass cooktops.
Preheat
For better cooking results, preheat the pan using the setting you intend to use when cooking, before adding butter or oil.
Butter or Oil
We recommend not using aerosol cooking sprays as they contain a chemical propellant that is difficult to remove. Instead, use an oil mister with olive or vegetable oil, or dab a bit of oil on a paper towel and carefully wipe the interior of the pan.
Oven & Broiler Use
Oven safe up to 450 degrees F.
Handles
Stainless steel handles stay cool while on the cooktop.
Utensils
Metal utensil safe.
Tips
After cooking, allow pans to cool completely before washing. To keep cookware looking its best, use care when stacking pans and covers—do not slide pans atop covers and avoid forceful impact while stacking.
Cleaning & Care
Calphalon Premier Space-Saving Cookware is dishwasher safe. Use automatic dishwashing detergent without bleach or citrus additives. However, before first use, hand wash your cookware with warm, sudsy water and dry thoroughly. Use a liquid dishwashing detergent and a non-abrasive sponge or soft bristle brush.
Storage
Cookware with the same diameters stack and nest in any order. For example, if this set contains four 10" diameter pieces, stack from bottom to top in the following order: 8-qt. Stock Pot, Pasta Insert, Steamer Basket, lid on top of the stack. Look for other 10" diameter products to complete your stack.
*Average space saved vs. like non-stacking Calphalon® cookware items when stacked with like diameter Premier™ Space-Saving items