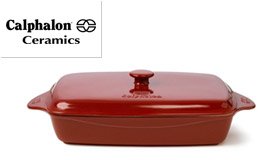 CALPHALON CERAMIC BAKEWARE
Dishwasher Safe
Oven, microwave and broiler safe
Refrigerator and freezer safe
Bakeware Use
Before using ceramic stoneware for the first time, wash in warm, sudsy water and dry thoroughly.
Safe for use with plastic, nylon, coated or wooden utensils.
Oven, microwave and broiler safe.
Refrigerator and freezer safe.
Cleaning & Care
Allow ceramic stoneware to cool before cleaning.
Dishwasher safe. You can also hand wash using a liquid dishwashing detergent and soft, nonabrasive cleaning sponge.
Dry thoroughly before storing.