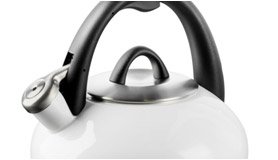 2 QT. TEA KETTLE
Comfortable, heat-resistant handle
Durable steel or enamel on steel exterior
Easy to use spout lever
Use:
Before using the Calphalon Tea Kettle for the first time, wash in warm, sudsy water, rinse and dry thoroughly
Do not fill the tea kettle beyond the Maximum fill line located on the back of the kettle.
Be sure to empty the tea kettle after each use.
When heating water, do not leave the tea kettle unattended on the stove top.
For best results: Squeeze handle firmly when pouring in order to open spout fully.
Cleaning & Care
Allow the kettle to cool completely before washing. Never immerse a hot kettle in cold water as this will cause irreparable warping.
Do not wash in an automatic dishwasher as this will void the Limited Warranty.
Hand wash using a liquid dishwashing detergent such as Dawn and a non-abrasive sponge or soft bristle brush.
To restore shine to Stainless Steel tea kettle exteriors, use Bar Keeper's Friend cleanser and a non-abrasive sponge. Do not use on enamel tea kettles.
Dawn® is a registered trademark of Procter & Gamble. Bar Keeper's Friend® is a registered trademark of SerVaas Laboratories.