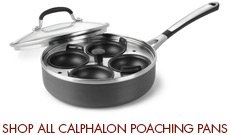 To poach, all you have to do is submerge food in a cooking liquid that's heated to an almost-simmer. It's really that easy! Depending on your recipe, you can poach in water, stock or even wine. It's a convenient way to prepare naturally tender foods, and is especially suited for eggs, fish, chicken and even fruit.
When poaching, it's important to pay attention to the temperature of your cooking liquid. An ideal range is between 160°F to 185°F. Within that range, the cooking liquid should quiver or shudder, but not begin to bubble or boil. If desired, you can use an instant read thermometer to check and maintain proper temperature.
A variety of pans can be used for poaching. Calphalon Egg Poachers are specially designed with individual poaching inserts or baskets for poaching eggs. For other foods, you can use a saute pan, everyday pan or chef's skillet. The key is to use a pan that can hold enough liquid to completely submerge the food you are cooking.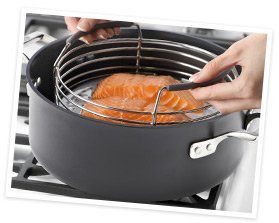 RECIPE: EGGS BENEDICT
RECIPE: PEARS POACHED IN RED WINE & CINNAMON
Tips for Successful Poaching
• Make sure food is completely submerged in liquid to ensure even cooking, proper color and texture.
• When poaching eggs, add a capful of vinegar to the poaching liquid. It will help set the egg white while cooking without affecting its flavor.
• Periodically skim the poaching liquid's surface to remove floating impurities or bits of food. Skimmers and ladles are good tools for this.
• Upon removing poached foods from the liquid, drain on paper towels to absorb any excess liquid.