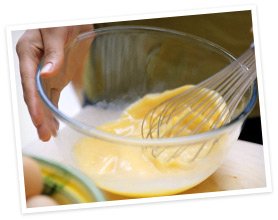 This omelette tutorial explains the fundamental cooking techniques you need to know in order to make a perfectly cooked and beautifully presentable plain omelette. For specific ingredient amounts, as well as ingredient variations, refer to our Basic Omelette recipe.
1. Take as many eggs as you need out of the refrigerator and allow to rest for about 10 minutes. A good rule of thumb is to use two eggs for an 8-inch pan, and three eggs for a 10-inch pan. Crack eggs into large bowl and beat well with a whisking fork or whisk.
Note: Eggs used directly from the refrigerator will cool the preheated pan and butter, and can cause eggs to stick on stainless steel or hard-anodized pans. If you don't have time to wait for eggs to reach room temperature, put them in a bowl of warm water (before cracking them) while you're preparing your other ingredients.
2. Always start with a thoroughly clean pan. This provides the smoothest possible cooking surface.
3. Preheat the pan on medium to medium-high heat, adjusting to your stove as needed. When you think the pan is at the correct temperature, test by rubbing a dab of butter on the cooking surface. If the butter bubbles briskly, your pan is ready. If butter does not bubble, the pan is not hot enough. If the butter immediately starts to burn, your pan is too hot. You'll need to turn down the heat, wipe the burnt butter from the pan, and test again after a minute.
4. Add butter to the pan (a recommended step for best flavor and results) and swirl to coat the bottom and sides. When the butter stops foaming and is a light golden color, add the egg mixture.
5. Allow the egg to set up for about 30 seconds. Then, gently slide the pan back and forth on the burner, allowing air pockets to form underneath the set-up egg mixture.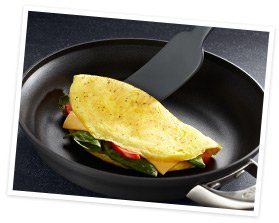 6. Using a Calphalon Nylon Omelette Turner lift the edge of the egg mixture and tilt the pan so that the liquid egg on top flows underneath and onto the cooking surface. Repeat this step around the entire omelette until it has set up.
7. Allow the eggs to cook for about a minute. Then, lift the pan slightly with the handle and move the pan over the burner to make the omelette swirl freely in the pan. If the omelette is sticking slightly, gently ease the turner underneath to loosen it.
8. Keeping the omelette slowly swirling, give the pan a quick upward "flip-jerk" motion to flip the omelette.
9. When the entire omelette is done, swirl the pan again to make sure the omelette is still moving freely. Then, tip the pan to slide the omelette smoothly out and onto the plate.