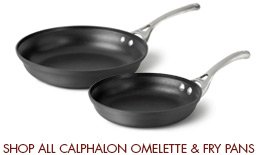 Omelette pans are one of the most essential pans in the kitchen, and with good reason. Calphalon omelette and fry pans are carefully designed to give you exceptional results, whether you're cooking a delicate omelette, searing a chicken breast, or sautéing garden-fresh vegetables. The secret is in Calphalon's quality construction and design details. Here's what you should be looking for:
A thick, flat bottom. This allows you to use a medium-high heat to cook eggs quickly without scorching. Thickness also prevents pans from warping, which can result in uneven cooking.
Superior conductivity. Hard-anodized aluminum, and stainless steel with an aluminum core or base, distributes heat evenly and responds to subtle changes in heat level, so the cook (not the pan) controls the cooking process.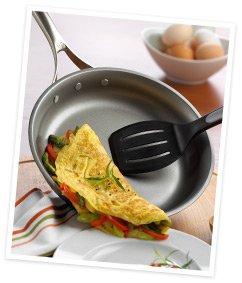 The right cooking surface. Calphalon gives you a choice of cooking surfaces: nonstick, stainless steel and hard-anodized aluminum. Nonstick is the top choice for easiest release, while stainless steel is preferred for browning and searing. Hard-anodized aluminum is smooth and nonporous, and resists sticking.
Long, stay-cool handles. Long, well balanced handles give you room for a firm grasp when maneuvering a pan over heat, or when swirling or flipping food. Stay-cool stainless steel and silicone grip handles keep their cool when you're working on the stovetop, too.
Gently sloping sides. Sloped sides help guide the omelette as you move it around the pan, and facilitate perfect swirling and flipping too. Flared edges encourage omelettes to easily slide out the pan and onto a plate, without breaking. A low profile. Low sides allow easy access, so turners can easily be slipped under food edges for turning.
Size availability. Choose the right size for best results. Small 8-inch diameter pans are perfect for single servings, sautéing small ingredients such as mushrooms, or making pan-sized pancakes. Medium 10-inch diameter pans are good for omelettes and all-purpose sautéing, as well as grilling sandwiches or frying bacon. Large 12-inch pans are ideal for crepes, preparing steaks or filets, or sautéing larger amounts of food at one time.