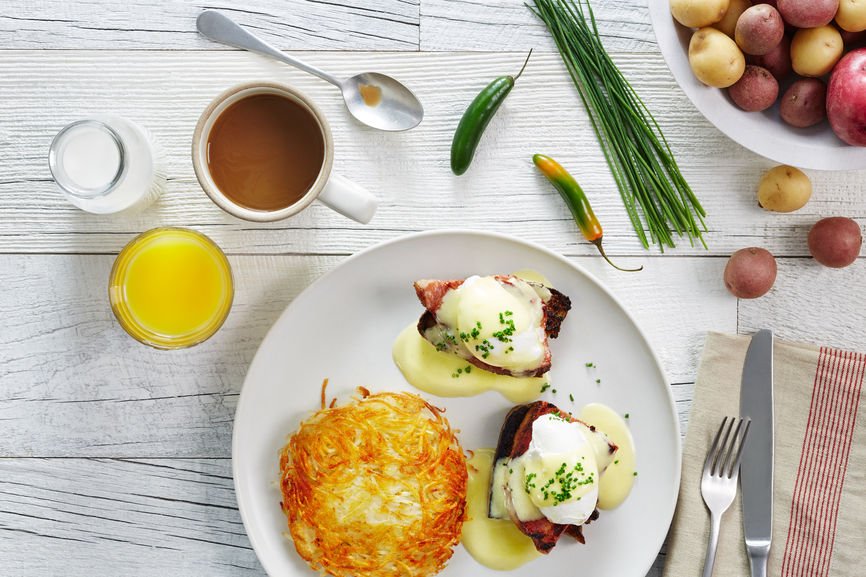 Top Brunch Recipes
From coffee to crepes, brunch seamlessly combines good food with great company. Enjoy a leisure-filled meal with these mid-morning classics.
Tasty Berry Waffles
Ingredients:
2 egg yolks
1/2 teaspoon salt
2 cups milk
1/3 cup oil
2 cups all-purpose flour
2 egg whites, stiffly beaten
1 teaspoon baking powder
mixed berries
powdered sugar
To Prep:
Preheat your Calphalon IntelliCrisp™ Waffle Maker
Put all ingredients, except egg whites, in a large mixer bowl. Beat on low until moistened.
Increase to medium, mix until smooth.
By hand, gently fold in beaten egg whites.
Pour 1/2 cup (125 ml) batter over grids. Close waffle maker, bake until steam no longer escapes, for about 3-5 minutes. Repeat.
Serve while hot with your favorite topping.
Sweet Potato Casserole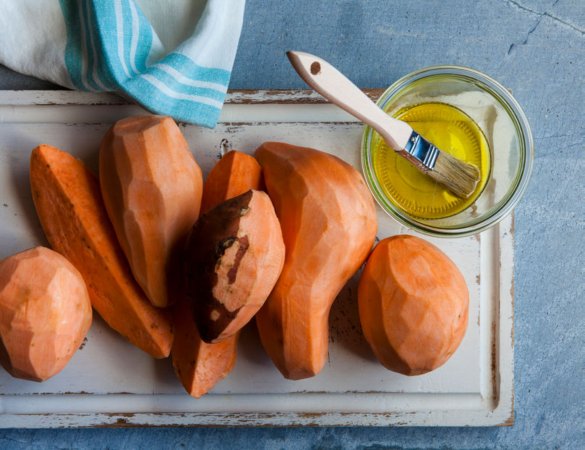 Ingredients:
6 medium sweet potatoes, peeled and cut into 1/2-inch cubes
1 1/2 cups applesauce
2/3 cup packed brown sugar
3 tablespoons butter or margarine, melted
1 teaspoon ground cinnamon
1/2 cup chopped nuts, toasted
To Prep:
Place sweet potatoes in Calphalon Digital Saute Slow Cooker
In a bowl,combine applesauce, brown sugar, butter and cinnamon.
Pour over potatoes in your slow cooker.
Cover and cook on low for 6 to 8 hours, until potatoes are tender.
Top with toasted chopped nuts.
Classic Eggs Benedict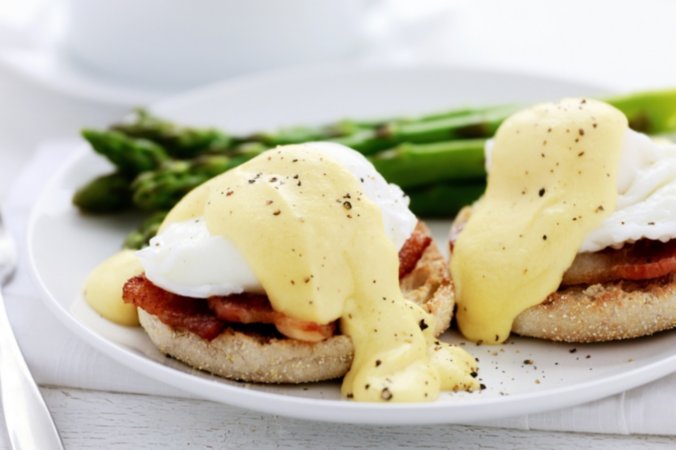 Ingredients:
To Prep:
To poach the eggs, fill a poacher pan with water(up to the rivet). Add a dash of white vinegar and bring water to a simmer over medium heat.
Add 4 egg baskets to the poacher pan with basket handles facing the rim of the pan.
Crack each egg into a separate bowl, then gently pour each one into a separate egg basket.
Cook the eggs for about 3 1/2 minutes.
Lift up the basket to remove it from the water using the stay-cool handle. Tip basket to drain out any excess water back into the pan, then gently slide the egg out onto a paper towel to remove any excess moisture.
Preheat oven to broil.
Preheat a sauté pan on medium-high heat. Fry ham or bacon until golden brown on both sides.
Remove bacon; drain on paper towels and set aside. Carefully wipe sauté pan with a paper towel.
To assemble, place toasted halves of English muffins on a baking sheet. Top with ham or bacon; gently spoon poached eggs on top. Ladle hollandaise sauce over poached eggs.
Broil about 5 inches from heat until light golden brown, about 1 minute.